Fishing to Moon phase.
All of the charts shown are from my own results. The 2006 season was a real eye opener, and was followed by an even better 2007 season. I have certainly gained a lot more information to put towards future seasons, which was not always obvious at first glance. For those of you who may be interested in recording your own results, save a copy of Chart 2, and when printing it, set your printer up to show four per A4 page. This makes for more economical printing and the individual chart is a nice pocket size.
Chart 1 is a moon orbital chart based on Chris's theory that there are four possible feeding spells in any one day, taking into account other factors such as air pressure, air temperature, water temperature, weather conditions, colour and level, and most important of all, that if you are not on top of the fish, then you have absolutely no chance. I have found for myself that these spells do move according to the time of the year, and that once found they are very reliable. I have had some great evening sessions lasting just two and a half hours when others had gone home fishless.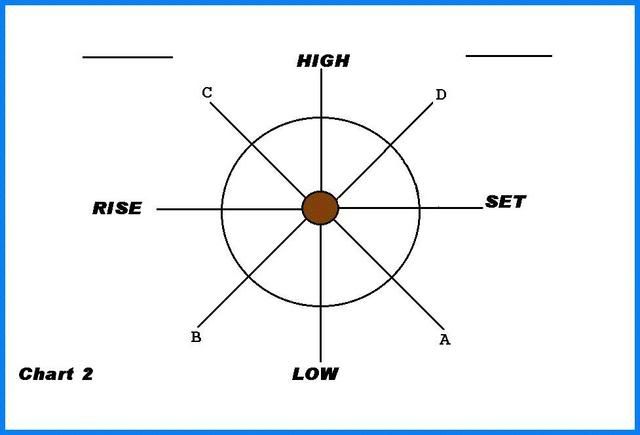 Chart two is a standard chart that I use to record the details of a single trip, which has allowed me to produce the Results Charts page for both the Trent and the Dove. I try to fill one in for every trip, even if I blank so I can look back to see how I did on a particular day/phase and try to find a time slot where I think I can catch on a future trip. They really do help, and I am now finding consistent times.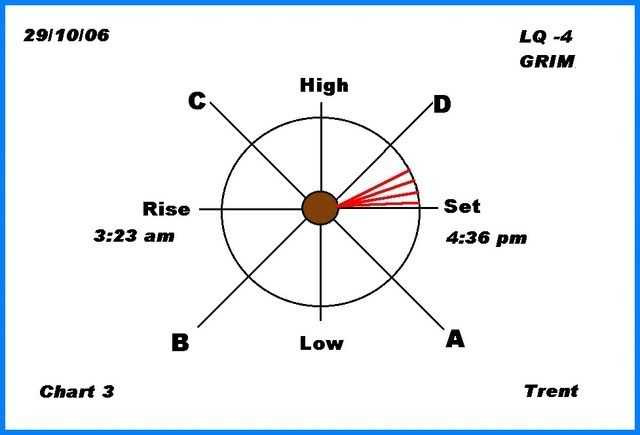 Chart 3 is a record of a two hour trip on the trent in October 2005. I cast in at 3pm and slowly started to pack in just after 5pm. Between 3:35pm and 4:19pm I lost four barbel ( three in the space of 17 minutes ). The river was up and coloured and the weather was mild, but forecast to be a GRIM day on Chris's chart, which it may well have been if conditions had been completely different, but the barbel still fed to a pattern.
Chart 4 is a record of an overnight trip on the Dove forecast as EXCELLENT for the 15 hour trip that I put in through a Saturday evening to Sunday morning. This was one of those trips that you remember, and even though it was back in 2005, I have been able to use this trip to help me catch this year ( 2006 ) in the same stretch using the timescale of the fish captured the year before. The two trips may have been 12 months apart, but the fish were only 4 minutes apart. Who would have believed it.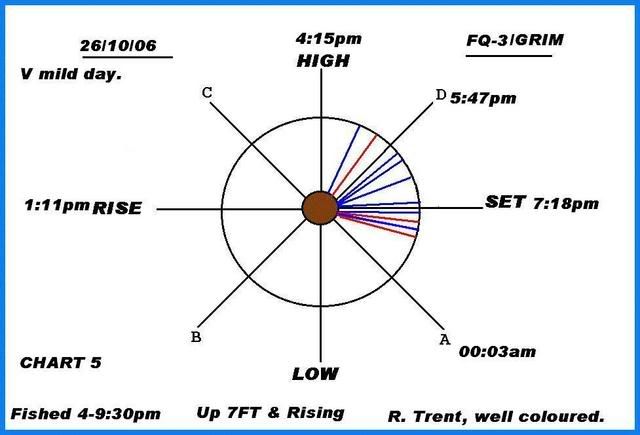 This is the catch results chart for what was a great session for Leyton and myself. To be honest, there were a few more takes that resulted with no fish on the end that I haven't included, because we were not sure if they were barbel or weed, although the way that the rods tore off would suggest the former and not the latter. It was a truly eye opening session with the fish seeming to go on a feeding binge during the first big flood of the season. Even though we packed in quite early, we think we would of kept on catching had we stayed.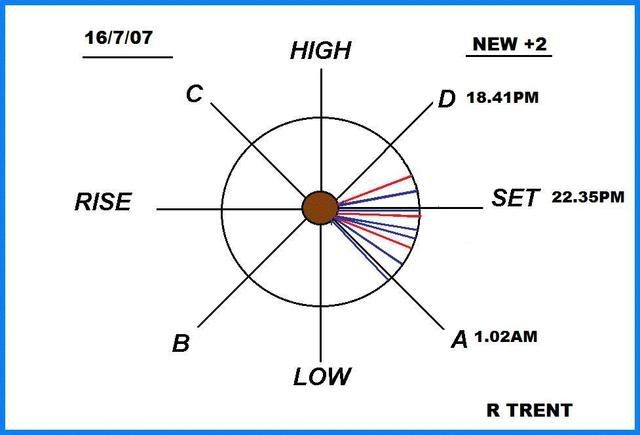 Heres one of my charts from the 2007/8 season. In the first four hours of this session which started around 18.30pm, I landed and lost one barbel. From 22.40pm I landed another five and lost a further two in a busy two hours and thirty five minutes, which just goes to show that may be there is a greater force at work. I was hopeful of a productive spell, and I got it, as well as a very late night finally packing up at 1.45am.